Isaac Adewole, minister of health, has suspended eight senior officials of the National Health Insurance Scheme (NHIS).
The development comes less than two weeks after Usman Yusuf, executive secretary of the agency, was sanctioned.
Yusuf had rejected the action of the minister, saying only the president could take such step.
The newly suspended officials are Olufemi Akingbade, general manager, zonal coordinator south-south zone; John Okon, general manager, finance account; Yusuf Fatika, general manager, human resources and administration; and Shehu Adamu, assistant general manager, audit.
Other are Vincent Mamdam, assistant general manager, head insurance; Safiyanu Attah, senior assistant officer, marketing; Owen Udoma, senior manager, contribution management; and Innocent Abbah, senior assistant officer, planning research and monitoring.
According to a statement from the ministry, the suspension of the officers was based on the "activities of the investigative panel of inquiry and the desire to have an uninterrupted and robust investigation of all petitions at the National Health Insurance Scheme, including security reports on maladministration and mismanagement by officials of the agency".
The statement said the suspension was to pave way for thorough investigation.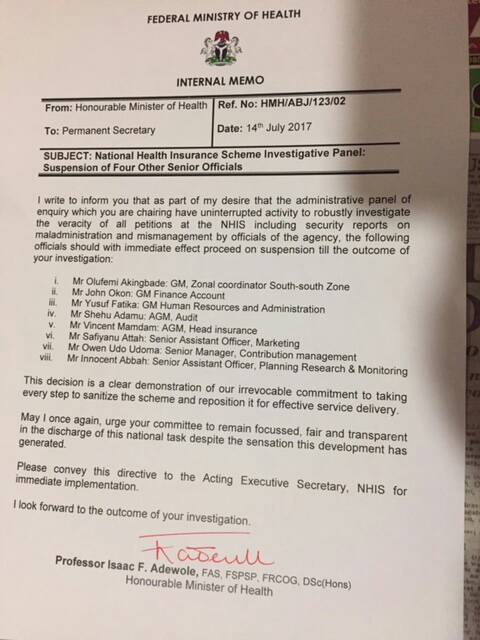 Adewole urged the investigative committee to remain focused, fair and transparent in the discharge of this national task despite the sensation this development has generated.
Attahiru Ibrahim, acting executive secretary of the scheme, was directed to ensure the immediate implementation of the suspension order.
Yusuf was suspended after his response to petitions written against him were "considered unsatisfactory".
Since Yusuf was appointed on July 29, 2016, he has been accused of violating procurement laws.
Source: The Cable