The First Lady, Dame Patience Jonathan, has charged women in the country to vote for the Peoples Democratic Party, PDP, stressing that any woman who votes for All Progressives Congress, APC, is an enemy of herself.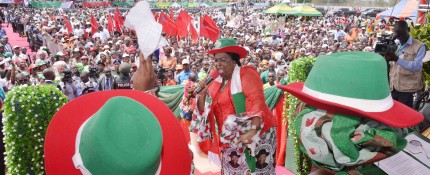 Dame Jonathan, at Orerokpe, Okpe Local Government Area of Delta State, at the PDP Women for Change Initiative Presidential Rally in the state, while applauding the benevolence of the PDP administration to women in the country, cited the Youth Enterprise With Innovation in Nigeria, YouWin and Subsidy Reinvestment and Empowerment Programme, SUREP, as some of the empowerment programmes the President Jonathan administration was using to empower women and youths in the country.
She said: "The PDP is a party that talks less and does more, unlike the APC that tells new lies every week. When you catch them today, they will tell another lie tomorrow. We (PDP) do not tell you about change because we are not bus conductors that ask for change.
"We are now in a digital age and we should reject anyone who wants to take us back to analog days. They keep saying they will do this and that. They should tell us what they have done for Nigerians while in office. As for President Jonathan, he has vowed to do more when he is re-elected.
"President Jonathan has brought a lot of innovation and empowerment programmes for us women. This is because no one loves the Nigerian woman more than Mr. President and the best way to pay him back is by re-electing him."