US First Lady Michelle Obama is joining James Corden in his hit sketch Carpool Karaoke this week.
A preview showed the pair dancing to Beyonce's Single Ladies.
The clip, posted on AOL's Makers website, shows Corden arriving at the White House for a tour before Mrs Obama gets into his car.
The footage, which was recorded last month in Washington DC, will air on the British star's Late, Late Show in the US on Wednesday.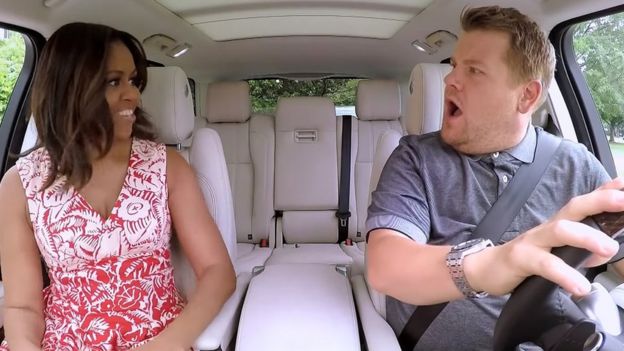 Mrs Obama is seen telling the presenter: "I hear you're here for a 1.45 tour and I had a little time on my hands so you want to go for a spin?"
The First Lady then tells Corden she "rarely" gets to listen to music in the car and the only time she has ever sat in the front passenger seat "rocking out" was when one of her daughters was learning to drive.
Other stars who have appeared on Carpool Karaoke include Adele, Sir Elton John and Stevie Wonder.
Corden began hosting The Late, Late Show in March last year.