The Manchester United goalkeeper is determined to win his place back from Sergio Romero after his deadline day move to Real Madrid fell through at the last minute.
David de Gea is set for crunch talks with Louis van Gaal on Wednesday with the Spaniard determined to win his place back in the Manchester United starting XI following the dramatic collapse of his move to Real Madrid.
The goalkeeper has yet to play for United this season as Madrid's continued interest led manager Van Gaal to exclude him from the first team, claiming the club's Player of the Year was not in the right place, mentally, to play.
"In spite of the fact that David de Gea wants to play, we think that it is better for him [not to]," Van Gaal explained when dropping De Gea.
"For me it's not normal that [Sergio Romero] is playing but I think in circumstances as this, it is the best decision."
But after his much anticipated move to Madrid fell through on Spain's transfer deadline day, De Gea is now back in contention to start against Liverpool at Old Trafford on Saturday evening.
De Gea returns to Manchester on Wednesday after starting his first game of the season in Spain's 1-0 away win against Macedonia on Tuesday, and the 24-year-old insisted he is ready to play for United once more.
"I felt good. I really liked playing again," De Gea told reporters after the match in Skopje. "Now I have to keep working, and I hope to be lucky now with my club.
"All of the support I received is very important to me. I have great friends and I'm very grateful to all of them.
"I will do in the future exactly what I do now: to be calm, and to keep working and improving. Definitely, I'm enjoying football. I'm happy."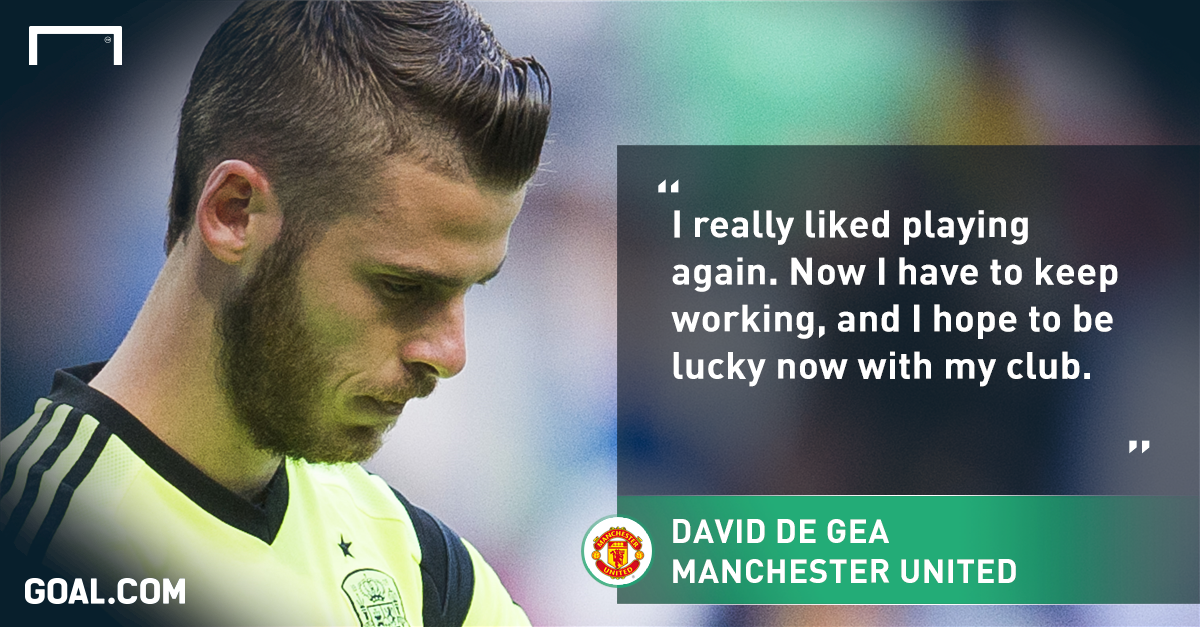 Romero has started all six of United's competitive fixtures this season in De Gea's absence, but the Argentine came under fire for his part in the loss to Swansea City last time out.
And with De Gea's future now resolved for the short term at least, Van Gaal could give the former Atletico Madrid man the nod to return to the starting line-up for Saturday's high-profile fixture against Liverpool.