Commuters are dealing with long queues and delays as they try navigating London during a strike that has shut down the whole Tube network.
About 250 extra buses have been laid on but there are reports of 200 miles of tailbacks as commuters switch to cars. 
The 24-hour strike by four unions began on Wednesday evening and there will be no Tube service until Friday.
Unions are unhappy at conditions offered to drivers on a new Night Tube service due to start next month.
A long-serving LU train driver, who wished to remain anonymous, told BBC News, "We get paid an amazing salary and the holidays are great too [43 days leave including eight bank holidays] but why should I be forced to work nights and more weekends when that is not what I signed up for? It's about the principle of changing our working conditions without discussions.
"I hate striking but I will continue to do so until the company listens or they make it illegal to strike.
"I feel sorry for commuters but instead of complaining to staff, they should complain to TfL and stand up for their rights too." 
Commuters told the BBC they understood the reasons for the strike but they did not think "the impact on commuters was very fair".
Traffic was heavier than usual on London's roads at midday but extra buses have been laid on for the strike and there are hundreds of bicycles available for hire from £2 at a temporary cycle hub in Soho Square, BBC London Travel reports.
At 08:45 BST there were 428 separate traffic jams around the city causing a combined 197 miles (317km) of tailbacks, traffic analysts TomTom said.
That was double the congestion of the same time last week, but it was not as bad as during the previous Tube strike in July when there were 1,445 jams and 761 miles (1,224km) of delays.
The most congested roads were around Parliament Square, with delays of 48 minutes, and on the A40 from Wood Lane to Marylebone Road, with delays of about 30 minutes.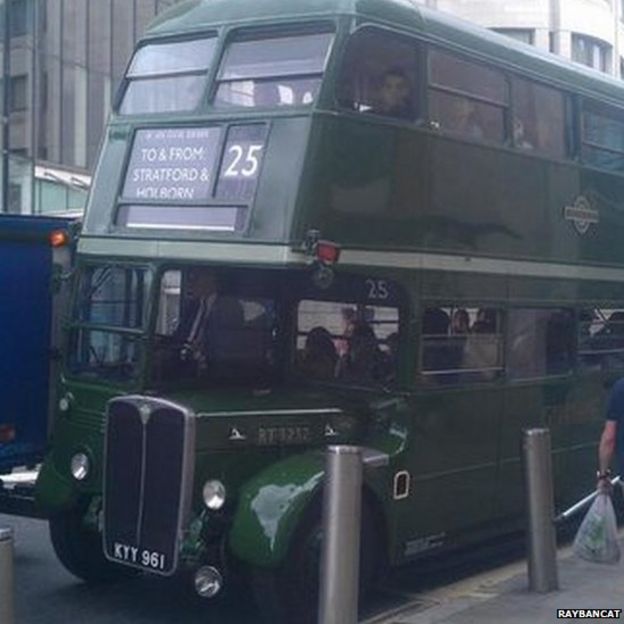 "With many Londoners away on holiday and no school runs, the roads were not as congested this morning as they were during the last strike four weeks ago," a TomTom spokesman said.
Transport for London said it would have a total fleet of 8,200 buses operating at peak times during the strike with an extra 250 vehicles leased from companies around the country and old buses including Routemasters being brought back into service. 
But even those aiming to beat the crowds and setting out on their journeys by 06:00 BST faced travel problems. 
Alessandra Bonomolo tweeted: "6:20am. Couldn't get on the first train – too crowded" while Roxy Baker said: "Not even 6:30 and you can barely get on the 205 at Bow Church… its first stop".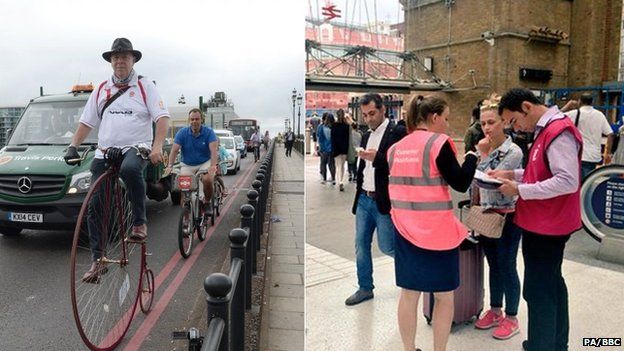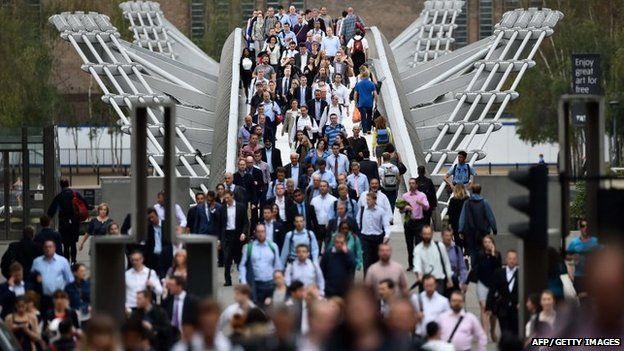 People are being encouraged to use alternative modes of transport to reach their destinations.
River bus service MBNA Thames Clippers tweeted: "Piers are very busy at present we're doing everything we can to ensure passengers reach their destination, thank you for your patience
Source – www.bbc.co.uk