About two thousand female members of the All Progressive Congress, APC, Monday protested on the ever busy Aba road in Port Harcourt calling for cancellation of Saturday'selection.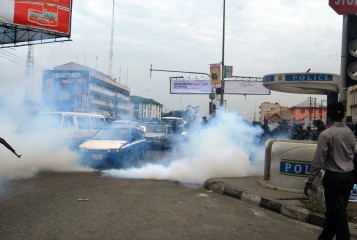 The protesters were dispersed at Waterlines portion of the road by stern looking policemen with mild teargas fired into the air, thus preventing the protesters from getting to the office of the Independent National Electoral Comission, INEC about five hundred meters away.
Meantime, the APC in a statement issued Monday by it's Chairman in the state, Dr Davies Ikanya called for suspension of the Resident Electoral Comissioner in the state, Dame Gesilia Khan, accusing her of electoral bias.
The statement signed by media aide to the Chairman, Chief Eze Chukwuemeka said the state INEC boss should not be allowed to conduct the governorship and House of Assembly elections.
"The Rivers State Chapter of the All Progressives Congress (APC) has demanded the immediate suspension of the State Resident Electoral Commissioner (REC), Mrs. Gesila Khan, for colluding with the Peoples Democratic Party (PDP) to rig last weekend's presidential and National Assembly elections in the State.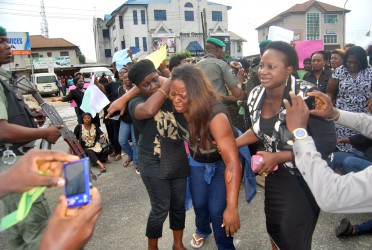 For Mrs. Khan to have removed the INEC result sheets in all the polling units in the State with the intention of rigging the polls is a very serious criminal offence. Mrs. Khan should not only be suspended but should not be allowed to conduct the April 11 Gubernatorial and State Assembly elections, as well as the Presidential and National Assembly elections when rescheduled.
We are very convinced that if our case is thoroughly investigated it will be confirmed that the State REC, Mrs. Khan, compromised her office and tarnished the good image of INEC.", the party said.
According to the party, governor Chibuike Amaechi had to demand to see the result sheet on Saturday before submitting himself for accreditation to be sure that the electoral body had not sold the sheets to the PDP.
"The Governor took that step as we were aware that the State REC had traded off the result sheets to PDP to write the results as they deemed fit. Amaechi wanted to prevent a situation whereby people would queue to vote while PDP and INEC would write a different result not reflecting the true voting pattern in the State." , the party said.
The party further alleged that soldiers were deployed on Saturday to secure victory for the PDP, adding that the PDP also allegedly armed youths on the election day for violence.