Technical Committee Chairman of the Nigeria Football Federation, Felix Anyansi-Agwu has criticised Stephen Keshi for saying a new deal offered him by the football authority amounted to a "slave contract".
The 52 year old Keshi reportedly made the remarks after receiving his new contract following an eight month wait.
A debate had raged in Nigeria over whether Keshi should be given a new deal, despite new offer to the NFF and stop embarrassing the country or his potential employers in the media.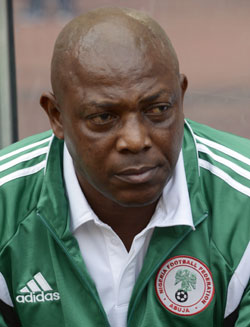 "The act of taking contractual matters to the media doesn't show maturity and discipline from [Stephen] Keshi," Anyansi-Agwu told BBC Sport.
"Contracts are not signed on the pages of newspapers and his objections or concerns should be addressed to the federation and not to outsiders.
"Why insult your potential employers in the media if you plan to work with them. He should stop embarrassing and insulting the country in public, it's the reason he has a lawyer who could speak to us."
Keshi took over in November 2011 and his initial contract with the NFF ran out after last year's World Cup in Brazil, where Nigeria reached the second round stage.
As caretaker coach he endured a turbulent 2014, in which he was sacked by the NFF and only reinstalled after intervention from Nigeria President Goodluck Jonathan.
BBC Sport understands that Keshi has now been offered a two-year contract effective from 1 March 2015 with him having to meet several targets. He is also required to sign a code of conduct, or else the deal is off.
His latest outburst has led to Anyansi-Agwu urging him to 'walk away' if he is not happy to share his concerns directly with the NFF.
"The whole thing should not have been blown out of proportion. It's the NFF employing Keshi and not the other way round, so if he's not happy he can simply 'walk away'.
"The role is not his birth right, so he should stop acting like it's him or no one else.
"He's not going about it the right way. Keshi can't employ those employing him, so if he's not happy he should come back to us and we can look into it.
"Keshi has worked in other countries and he didn't engage Togo and Mali in a media war, so if he has advisers then they should tell him the matured path to follow, "Anywansi-Agwu added.